It's estimated that there were once as many as 3000 castles in Scotland. Some of them have survived the ravages of time better than others.
Here are just a few of them, some of which we cover in more detail elsewhere on this site.
Castles in Argyll
Castle Stalker
Castle Stalker, or Stalcaire in Gaelic, is a stocky stone keep on an island in Loch Laich, part of Loch Linnhe, and is overlooked by the small town of Portnacroish.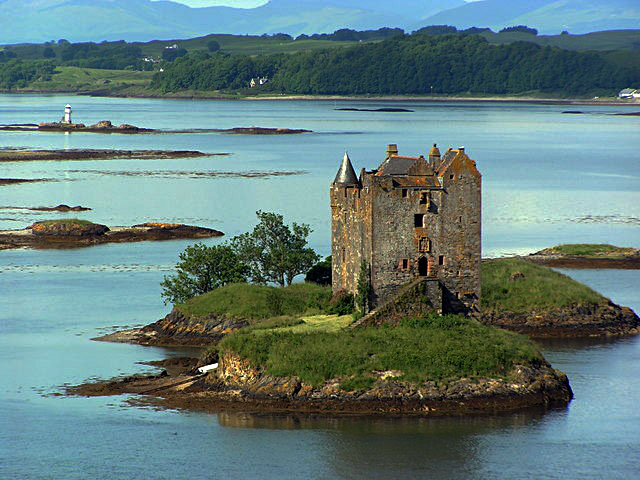 Doune Castle
Doune Castle was built in the late 1300's by Robert Stewart, Duke of Albany, brother to King Robert III of Scotland. It is believed that the castle may have been erected on the site of a previous fortification, since the name derives from dun meaning fort.
This conclusion is reinforced by the remnants of prehistoric earthworks that have been found in the area around the castle. Although Doune was never completed to the original plan, it was built to last and is considered among the best-preserved medieval castles in Scotland.
Stirling Castle
Perched on top of a volcanic rock overlooking the River Forth, Stirling Castle is one of the most impressive castles in Scotland.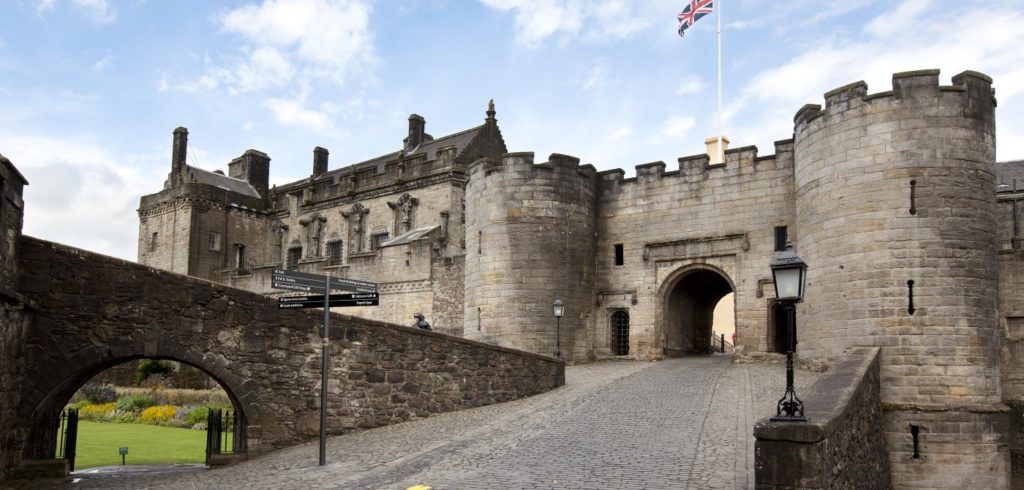 The Clyde Valley
Dumbarton Castle
Perched on top of a basalt rock, Dumbarton Castle by the town of Dumbarton in Scotland. Its position overlooking the Rivers Clyde and Leven made the site of..
Dumfries and Galloway
Caerlaverock Castle
Caerlaverock Castle lies seven miles south of Dumfries, in the Caerlaverock National Nature Reserve near where the River Nith flows into the Solway Firth in..
Fife
Castle Campbell
Castle Campbell sits high and alone in the Ochil Hills, the hillsides plunging down at either side into the Burn of Sorrow and the Burn of Care in Dollar Glen.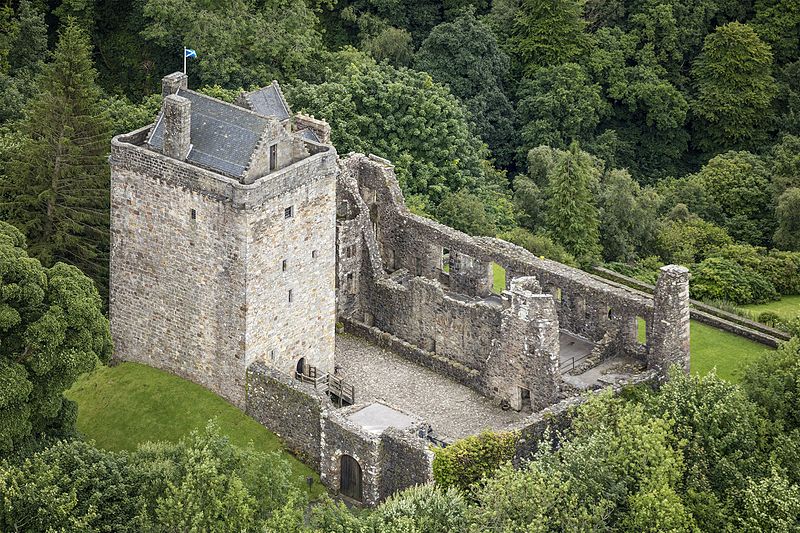 Falkland Palace
Falkland Palace is located west of St. Andrews in Fife, Scotland. From its position in the centre of Falkland village, it towers over the surrounding streets.
Ravenscraig Castle
In contrast to many historic castles built primarily as places of residence, Ravenscraig Castle, or Ravensheuch as Sir Walter Scott called it in The Last Lay.
Grampian
Castle Fraser
Castle Fraser is located near Inverurie in Aberdeenshire. It is the most elaborate Z-plan castle, also known as three-stepped or Scottish Baronial, in Scotland.
Crathes Castle
Crathes Castle is an L-shaped 16th century castle situated near the Scottish town of Banchory in..
Drum Castle
Drum Castle, historic seat of Clan Irvine, is located 10 miles from the city of Aberdeen in Aberdeenshire, Scotland. It is probably the oldest continuously..
Dunnotar Castle
On an ancient outcrop of rock 160 feet high stands the historic Castle Dunnottar, looking down from the sheer cliffs upon jagged rocks dashed by a cold east sea.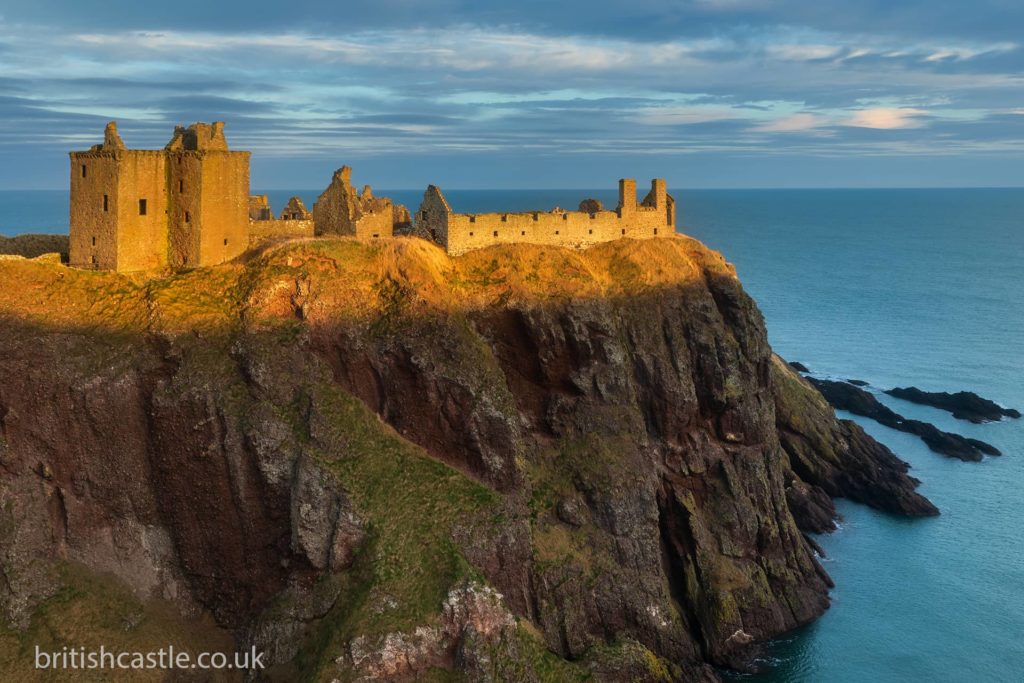 Kildrummy Castle
Kildrummy Castle, located near the town of Kildrummy in Aberdeenshire, Scotland, is a ruined castle, with only the foundations and lower story walls remaining.
Lothian
Craigmillar Castle
The oldest part of the Castle of Craigmillar still standing was built sometime during the late medieval period. Constructed upon a crag of rock on the crown of a hill is a fine example of a traditional Scottish keep.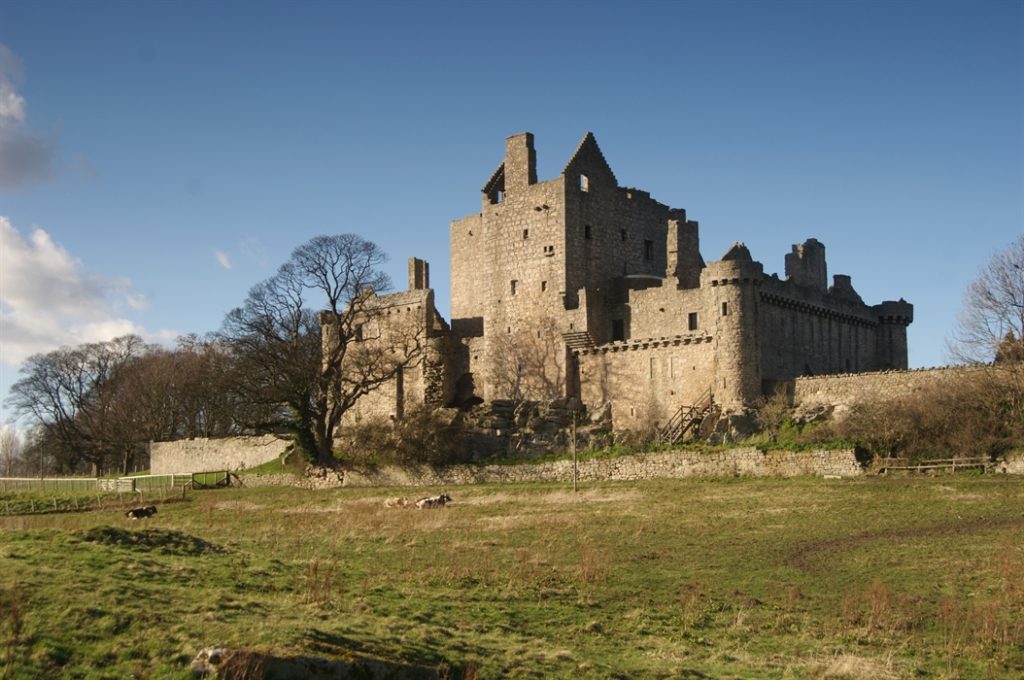 Edinburgh Castle
Edinburgh Castle sits on top of a great shoulder of volcanic rock formed about 350 million years ago. Shored up on three sides by cliffs which make access to the castle almost impossible unless approached from the east, historically these natural features have made the castle and Castle Rock on which it stands an ideal place for resistance and defence.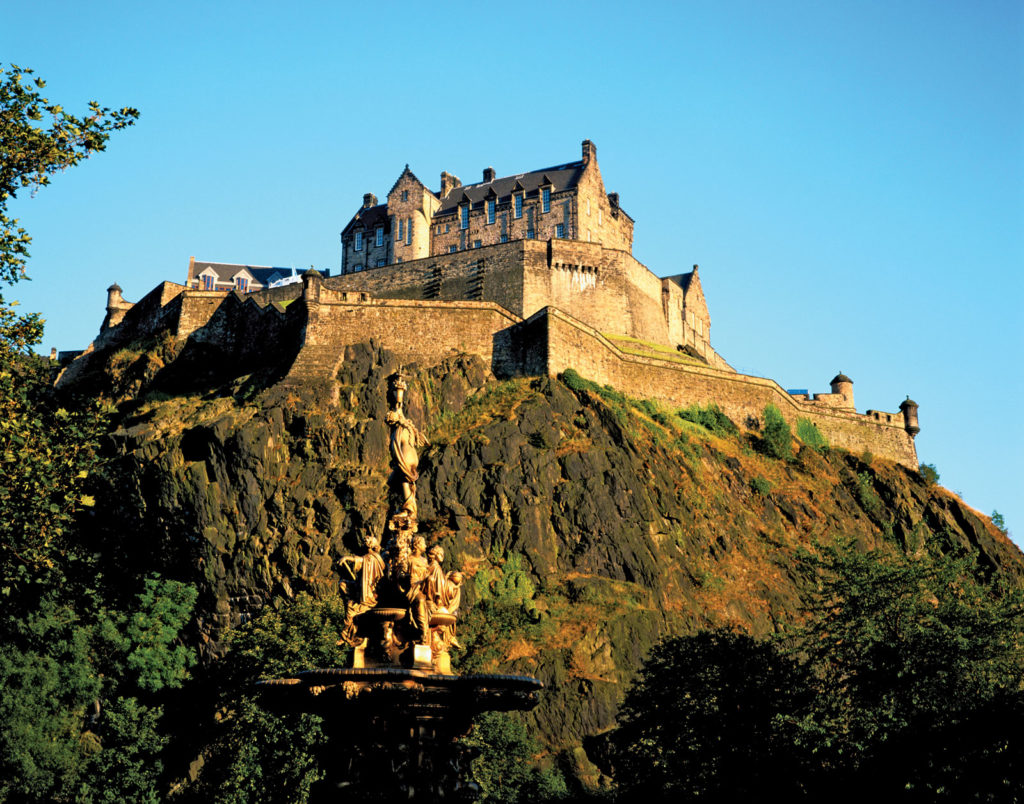 The Palace of Holyrood House
According to legend King David 1st was attacked by a stag whilst hunting in grounds now known as Holyrood Park. He saw a cross (or rood) between the antlers, and believed this to represent a relic of the true cross which was said to be in the possession of his mother, Queen Margaret.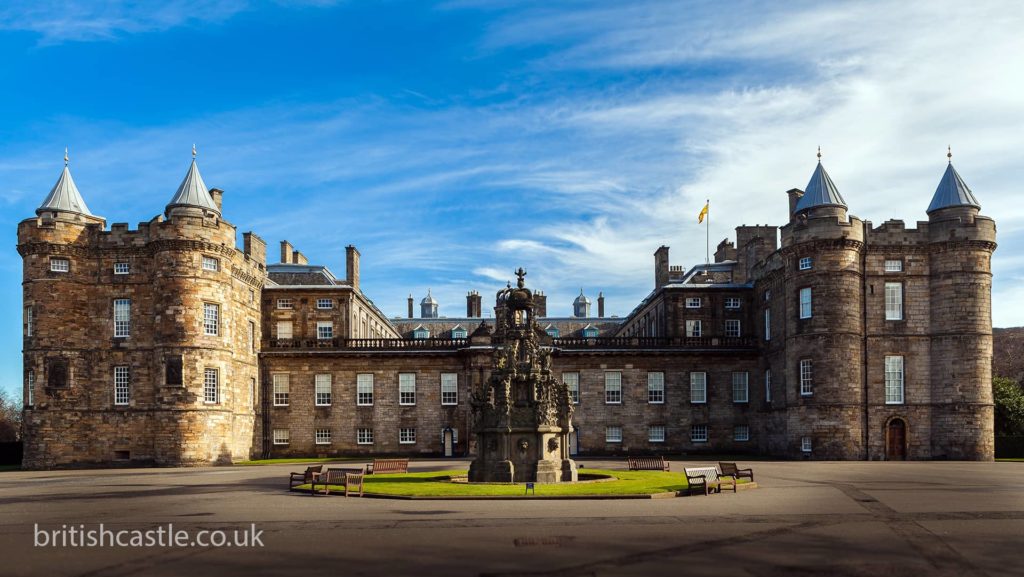 Linlithgow Palace
Records tell of a royal castle and surrounding farm lands having been gifted by David I, 1124-1153, to the Canons of Holyrood Abbey. This castle, or more likely, mansion house, served protection to a town and church at Linlithgow.
Tantallon Castle
At its peak, Tantallon was one of the strongest fortifications in Scotland. It is still impressive and awe-inspiring even though large portions of it have been severely damaged. It is located in East-Lothian, 2 miles east of North Berwick, with high cliffs on three sides looking out to the North Sea.
Highlands and Skye
Ardvreck Castle
Ardvreck Castle, originally a stronghold of the MacLeod family, stands on a promontory jutting into Loch Assynt in Sutherland, Scotland. All that remains of..
Eilean Donan Castle
Considered to be one of the most beautiful in Scotland, Eilean Donan Castle lies on an island at the meeting point of lochs Long, Duich and Alsh, across from..
Urquhart Castle
Loch Ness forms part of the Great Glen carved out by glaciers during the Ice Age, and on the north bank stands Urquhart Castle. Its haunting ruins are a..
Perthshire
Huntingtower Castle
Well preserved and with an unusual design the small Huntingtower Castle lies just outside and to the west of the city of Perth in Scotland. Originally two..
Scone Palace
Over 1500 years ago Scone was the capital and centre of the Pictish Kingdom. Despite the attempts by the Romans to defeat the Picts they were never successful…